by Home of the Open Heart
by Home of the Open Heart
Share


Dear Friends,
We are on school break in Chiang Rai. The third wave of covid in Thailand is currently getting worse, instead of better, with more and more community cases daily (approx 18,000 daily), thus, limiting our activities somewhat. We are being careful but intentional about celebrating life with these precious kids.

In this photo, below, we celebrated another great past year of study, completed by all our students.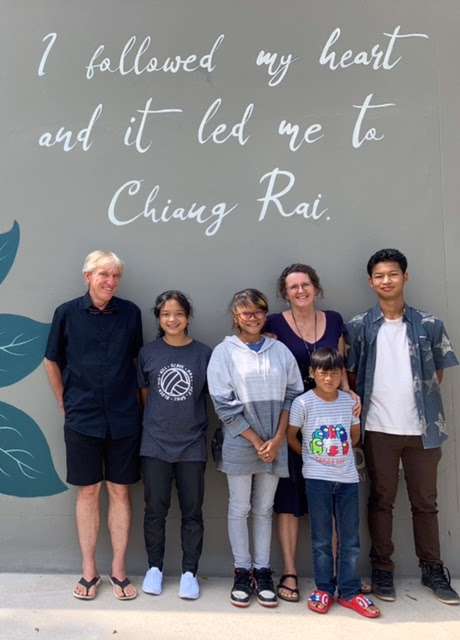 Pictured above (left to right) Paul, Nui, Mai, Arnie, Penny, Jono.Jono finished grade 11 and is excited about being a high school senior starting Aug 18, in 2 weeks. Hard to believe he will be 18 years old in November. 

Arnie has worked very hard during his grade one year. He has learned to read and write this past year. Yay for Arnie! He will go into grade 2, also starting in 2 weeks.

Mai also finished a great year of study, passing all her subjects. Due to rough start in life, she isn't in the same academic year as Jono, although she is also turning 18, early September! We are so proud of her attitude and her achievements.

Nui is still working at a local restaurant and loves the work, she is 19 and considering her future. Nui loves being at home, is thriving and we appreciate her contributions to our family. 




Yanee (16 years) is doing well as she works alongside our staff helper, Supun, learning valuable home management skills. Yanee does enjoy being a part of cooking our evening meal each day, as well as helping with buying the groceries and outings to our local markets. Great life skills development for her. Above all, she truly comes alive when she has opportunity to go along with Penny sharing in visits to nearby villages or hospitals. And in other exciting news, after one year of 'jumping through hoops' we now have the visa we hoped for. We are grateful beyond words, this truly is miraculous, as we were told multiple times that this would not be achievable, without leaving the country. So please 'do a happy dance' 
 with us, as we celebrate being able to stay in Thailand and also now having a renewed ONE YEAR visa. 

Peace to you all in whatever you are facing. Stay safe.
Paul and Penny

Subscribe to our free newsletter.
Dear friends,We are grateful for our health and that our lives are full of opportunities to impact our community, invest into the lives of our grown kids, speak destiny, influence, praying for/with younger leaders, encouraging colleagues to stay on track and refocus when needed. Our daily goal is to be intentional to take time to listen …

Last month we were deeply encouraged by kind responses from many of you who received our news. We are blessed beyond measure to have each and every one of you, who partner with us, encouraging us, helping us to see these kids through. We are honoured and thrilled by your love and support.  You know, …

Dear friends,Some snippets of fun news from Paul & Penny in Chiang Rai.  It'll be a joy to have almost all our Thai kids home for Christmas, so they will come to share Christmas Day with us at home, with their friends tagging along. Our decorations just went up in preparation for celebrating Jesus' birthday. Of …